The dining room is the heart of the house. It's where you serve the beautifully prepared meals and spend valuable time with your family, so it's only natural that you'd want a clutter-free, stylish place. The alternatives are infinite, whether your dining room needs a complete makeover or just a few essential design modifications like a fresh coat of paint on the walls or a new floor.
There are several low-cost design tasks that you can complete over the weekend or in a couple of minutes to elevate your dining room. The dining room interior design is crucial to set the entryway as the guests will come and sit here to dine with you. It shows your standard and class as well.
Professional designers from DesignTrivo advise, "You need to sort out the deadlocks that are causing clutter and deal with them with portable solutions." For example, a rolling cart for paying bills at the table is inexpensive and keeps paper clutter out of sight when it's time to eat.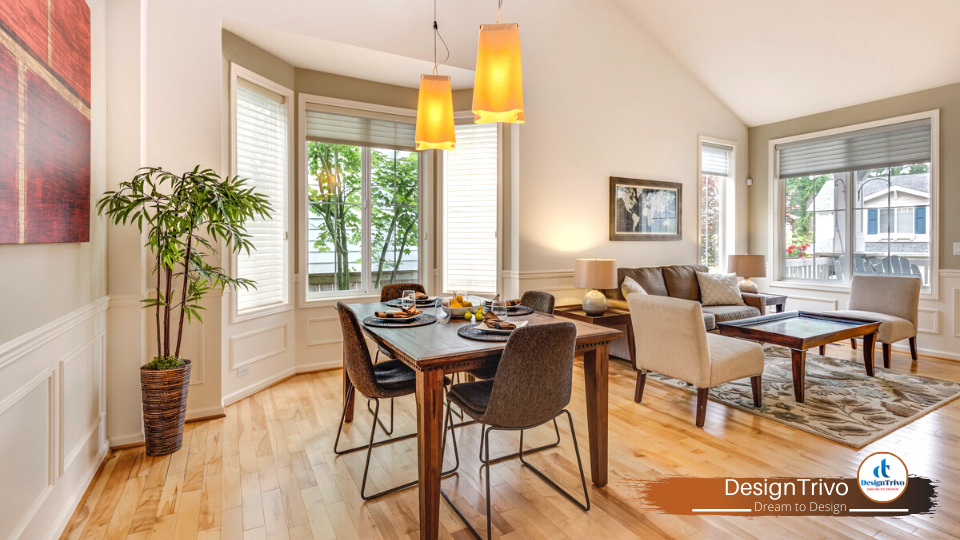 Top Ways to Revamp your Dining Room 
Are you ready to give your dining room a makeover?
Take a look at these stylish dining rooms for plenty of design inspiration.
1. Walls of Mint Green
If you've had it with bland walls, choose a bolder colour. Consider mint green walls, which go well with various colours such as white, beige, and teal.
2. Pastels with Charm
In a dining room, try using pastel colours for an unexpected look. Pale blue walls give this traditional dining area a modern twist.
3. Banquette Seating
With a comfy upholstered bench covered with colourful throw cushions, you can create a calm atmosphere.
4. Centerpieces that make a statement
For a stylish dining room effect, combine deep crimson candlesticks with luxuriant greenery.
5. Coastline Inspiration
This dining room has a coastal vibe thanks to a mix of relaxing blue tones and warm neutrals.
6. Melon burst
This dining room is brought to life by statement flower centerpieces and colourful melon walls, which go nicely with green patterned draperies.
7. A gallery wall 
It is incorporating botanical-inspired prints that may add flair to a dining room. For a more beautiful and coherent look, use all-white frames.
8. Pendant with a Larger Size
One of the simplest ways to increase visual appeal in a room is to play with scale. Consider this design approach, which includes a big globe pendant.
9. Setup for the Holidays
The holidays are the perfect opportunity to show off your style. Add a festive touch to your dining room by stringing garland across the top of your storage cabinet and layering plaid tablecloths.
10. Accent with Woven Fabric
To add flair to your dining room, add a woven accent, such as an enormous pendant.
To summarize the entire concept of the dining space décor, it is essential to bring out the preferred taste to add the best hue to the walls. The expert dining room designers will add to their knowledge about your preferences and make something utterly unique in outlook.