We design your living room with a sophisticated and comfortable space with a streamlined look. The living room is a space that reflects your personality. It is quite challenging to design the living room as per the client's choice.
But when you have landed at DesignTrivo, don't worry about the living room interior designing.
We are the best interior decorator in Kolkata, offering personalized design for our clients working especially on the need of our client. Our expert team of designers knows how to blend the need with the style and functionalities.
It is very easy to start with the living room design with us. Communicate with our designers and share your design ideas. Based on that we decide the style that you like, accessories that fit into your lifestyle. Whether it is just a simple rearrangement or addition of the furniture or the entire room renovation, we can look into your exact need.
Here are we have figured out some of the most likely decor plans which you can look into:
1. Keep it relaxed and cozy- You can try it out with the coolest and comfortable chairs in the living room. Add an antique sculpture to the room.
 2. More Seating Areas: Emphasizing the more seating area in the room looks spacious and grand.
 3. Thrive on Minimalism:  It is one of the most desirable interior decor plans that everyone is looking forward to. Try to use perfect colour and one antique piece to make it look outstanding.
 4. Soft colour that Mix with nature: The light cozy tones of neutral shade look more authentic and outstanding.
 5. Use Best quality accessories:  For the impressive living room, comfortable high style accessories are a great way to make it look outstanding. Try out bold tables & abstract sofas for the most attractive outlook.
 6. Elegant Entertainment spaces: Staying in a spacious house is a dream. Often we do not get an idea of what to do and what to skip. Try out with entertainment space as living room designs to enjoy movies with family together.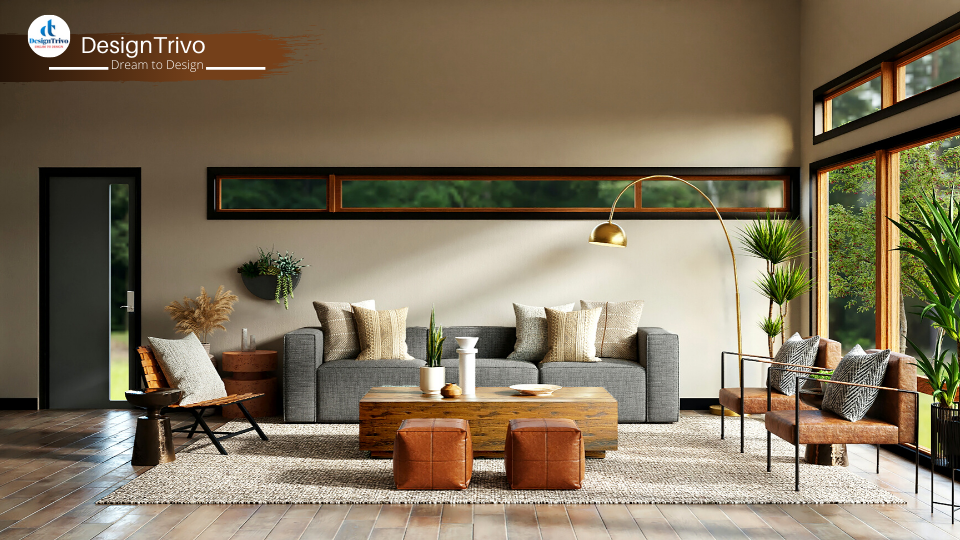 DesignTrivo has lots of living room designs ideas. Look into them and choose your one. Or you can also consult with us for customized designs.
For Expert Interior Designer advice  contact us or Get a Quote now.